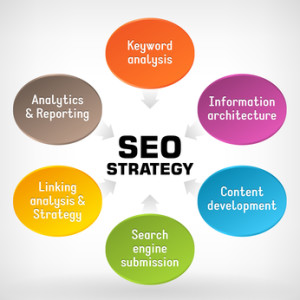 What is SEO?
Search Engine Optimization (SEO) involves marketing and making adjustments to your website to help you appear higher in the list of results on Google, Yahoo, Bing (MSN), and other major search engines. With several hundred million searches daily on Google alone, businesses need to focus on their web presence. When prospects go searching online for your type of business, it's important to appear on the first page of results in order to bring significant traffic to your website and, ultimately, more business to you.
How We Do It:
We start by doing a free analysis of your current website and online rankings. From there, we determine which program would be best for you: SEO LOCAL or SEO ORGANIC.
We then analyze the keywords and phrases that will help your business and the work needed to bring your site to the front page of Google. We'll make adjustments to your current website making it as 'search engine friendly' as possible for the terms we're targeting. We'll fix any errors that may be preventing rankings and make changes to your content to help boost your position.
Our team also writes and submits press releases to online publications, generating strong and powerful external links back to your site. We submit your company to hundreds of national and local directories and industry-related sites, making your website even more relevant with the search engines. Your company will begin to appear and pop up on independent directories throughout the web like Yellowbook, Verizon, Citysearch, and Merchant Circle, and many others.
Reporting:
Our traffic building SEO program comes with a free installation of Google Analytics into your website. This allows you to monitor increases in traffic to your site on a daily basis. In addition, you'll receive reports via
email every 2-4 weeks detailing your current ranking position for all keywords and
phrases on the campaign.
Guarantee:
At least 40% of the total keywords will land on the 1st page of Google at some point
throughout the campaign.
1. We will always strive for 100% of keywords to hit the 1st page of Google. The SEO GUARANTEE is just to assure you results, NO matter what, or you will get your money back.
2. If we do not meet our SEO GUARANTEE, we will continue working for up to three months free of charge to meet the promised rankings. If, at this point in time, the promised rankings are not met, all proportional money paid towards the keywords that did not meet their promised rankings will be refunded minus Local Listings and Content Writing charges.